Are You Super Ready for Home Theater Football Parties?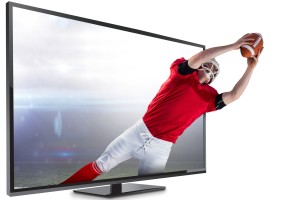 Do you love the idea of having friends and family over to watch the football bowl games? You know you'll have great snacks and beverages ready and maybe some extra chairs. But do you have a great home theater for football parties? The experts at Palm Desert Rangel Electric can get your audio visual system ready for the big games.
Design to Installation
Our professional team at Rangel Electric can help you through the entire process of home theater design. Whether planning a fully dedicated media room or just upgrading a TV area in the corner, we can help you make the most of your budget and realize your dream of having a great home theater for football viewing. We pride ourselves on the highest standards and our knowledge of systems and brands to help design a comprehensive home theater just for you.
How Big of a TV Can I Get?
Many football fans dream of the biggest possible TV for watching football and we're all for that too! We offer a free in-home consultation to help you evaluate your space and needs. Even if you don't have room for a super-size projection TV, we'll help you choose the best electronic components, speaker configuration, all-in-one remote, and even seating design to make your home theater football party-ready.
Clean, High End Finish
A brand new home theater is great for watching football, but you don't want to see all the wires and bolts. At Rangel Electric, our installers are professional electricians who provide a non-invasive installation, hiding wires to ensure a clean and professional finish.
From traditional to contemporary home theaters, large or small, Rangel Electric can provide creative support and design solutions to achieve your home theater goals. If you're planning your home theater football party and need some help getting your audio visual updated, contact Rangel Electric at (760) 360-7377. We'll help you make your home theater super ready for the big games.