The Benefits of LED Light Retrofitting in Your Home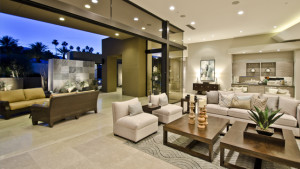 If you are looking for ways to improve the appearance of your home, then you need to consider the quality of lighting that you are using. A dark space feels dreary throughout the day and is ineffective at night, which has an impact on the overall comfort and style of the room. LED light retrofitting is a great option to consider, because these home upgrades can quickly transform your living space to create a bright and happy area. The professionals at Palm Desert Rangel Electric are experts at lighting design and installation and can help you transform your home with lighting.

What is LED Retrofitting?
In recent years, people are seeing the benefits of installing LED lights in their home. This innovation in technology offers many benefits, which can be used in both home and office settings. The retrofitting process involves replacing traditional lighting with LED solutions instead.
Why Should You Consider LED Retrofitting?
There are several reasons why you might consider these lighting upgrades in your home or office. Here are a few of the benefits:
• Energy Efficiency: LED lights are energy efficient, allowing you to keep the lights on without using as much energy as before. You can reduce your carbon footprint and lower your utility bills at the same time.
• Money Savings: Even though there is an initial cost of replacing the lights in your home, most people find that they have recovered the investment within 2 to 4 years. You utility bills will drop, allowing you to save money every single month. Additionally, the cost of replacement bulbs goes down, because LED bulbs last much longer than traditional bulbs.
• Save Time: Do you get tired of the hassle of changing the light bulbs all the time? LED lights are long-lasting, which reduces the frequency of changing the bulb. If you leave an LED fixture on for 8 hours a day, then it will take approximately 20 years before you will need to change the bulb.
• Quality Lighting: LED lights can be setup to illuminate a certain area of the room, and you will find that the lights are brighter and more effective than traditional lighting. When the lights turn on, they brighten up immediately and they offer an efficient way to keep your home well-lit.
• Custom Design: There are many ways that LED lights can be designed, and you can work with our experienced team to create a custom layout for your home. We can assist with lighting solutions for inside and outside of the home.
At Rangel Electric, we are experts in LED lighting solutions for the home and office. We invite you to contact us today for more information about LED retrofitting for your home: (760) 360-7377.