Home Theater FAQs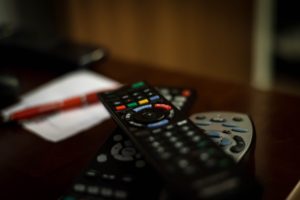 Well, I have a TV and 3 remote controls; that's a home theater, right? From design to installation and everything in between, at Palm Desert Rangel Electric our professionals are experts in helping our clients create a true home theater of their dreams. Whether large or small, creating a home theater is an exciting update to your home. Here are some of the frequently asked questions we hear:
What does home theater really mean?
Basically, a home theater is a system of audio visual equipment in your home that tries to replicate a movie theater experience, with a large, flat screen TV, surround sound and comfortable seating. The goal is to create a more immersive experience than just watching TV. Of course, this could be an elaborate and expensive dedicated media room or also some sufficient components in a corner of your den. Whatever your budget, Rangel Electric can work with you to design a great entertainment space.
What are the necessary components to create a home theater?
A home theater consists of the basic components watch TV or movies as well as the extras that make it truly immersive and exciting. This includes:
Flat Screen TV – many people think bigger is better, but it really depends on the size of your space.
Surround Sound Speakers – place strategically around the room, surround sound is one of the most "movie theater-like" parts of home theater.
Media Streaming Box – this is the component that lets you download movies and other entertainment from the Internet.
Video Source – you may still want a DVD or Blu-Ray player for all of those movies you've already purchased.
Receiver – this manages the sound of all the different components.
Universal Remote – A single remote can be programed to control all of the components from a single source.
Or course, there are additional options to take your home theater to the next level and we will discuss all of the choices with you.
Is my Internet fast enough for streaming TV?
This a significant question as slow Internet can be truly frustrating or even hamper your experience altogether. Streaming speeds can be effected by how many devices are being used in the same home at the same time (checking Facebook on your smartphone while you watch TV) as well as other factors, so it's important to ensure you have sufficient speed. Often slow speeds are caused by outdated equipment or even the location of your router. Our experts at Rangel Electric will access your Internet system and make appropriate recommendations to ensure that you're up to speed.
How far away should we sit to watch TV?
Comfort is also an important component to a good home theater and how far you sit from the TV and where the speakers are located can make a difference in the overall experience. If you sit too close to a large screen it can strain your eyes, and viewing angles and window glare can all contribute to the quality of viewing as well. TV, sound and furniture placement all depend on the size and configuration of your space. As part of our design, we will evaluate your space and work with you to incorporate the right components and placement for your custom home theater.
Is a home theater really expensive?
The range of audio visual components and design styles seems almost endless, and our team at Rangel Electric will work with you to create your custom home theater within your budget. When planning your dream system, we evaluate what you need, how you will use the space and your realistic budget. Whether basic or elaborate, our team knows how to make the most of your budget to ensure that you have the perfect balance of function and fun in your home theater.
Does a home theater increase my home value?
The best reason to install a home theater is for your own enjoyment; depending on the extent of your design, it may or may not be permanent to the home. However, some studies show that built in features and dedicated media rooms can set you home apart from similar homes without these amenities.
At Rangel Electric, our vast experience gives our professionals the knowledge for full service home theater design and installation as well. We can design a simple, yet high-tech audio visual system or a more complex, fully-integrated unit with all products managed by a user-friendly smart panel. We provide the non-invasive installation, hiding wires to ensure a clean and professional finish. We know your home and needs are unique. Call us at Rangel Electric at (760) 360-7377, and let us create the perfect home theater for you.