Outdoor TV Installation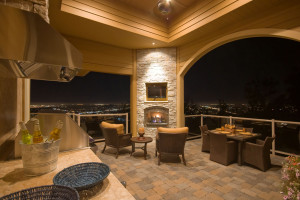 One of the best reasons to live in the desert is the amazing weather and the ability to be outside most of the year. Enjoying your own backyard and having friends and family over is a highlight not to be missed. But while you are enjoying the sunshine, you may not want to miss your favorite game or program on TV. Outside TV installation, however, can require a bit more planning than you might think. At Palm Desert Rangel Electric, our experts can help you ensure a great outdoor TV experience.
Idea to Installation
From design to installation to training on your system, our professionals will ensure that the process is seamless and hassle-free. Whether you have a dream design for a complete outdoor audio visual area or a simple idea for a TV, we will help you determine the components you need and complete all the steps to make your outdoor entertainment system a reality.
Weather and Glare
It's no surprise that the weather can wreak havoc on your outdoor TV. Heat, cold and moisture can ruin the television and glare can make it hard to see the picture. It's important to choose an area that provides ample shade and protection from the elements. Our professionals at Rangel Electric will help you choose the best location for outside TV installation as well as make necessary recommendations if you need custom cabinets or other accessories to ensure the best viewing possible.
Professional Finish
Even though this TV may be outside, you don't want it to look any less professionally installed. At Rangel Electric we pride ourselves on the highest level of customer service and clean, high end finishes. No hanging wires or strange holes left behind. Your outdoor TV area becomes a beautiful extension of your living space.
From simple to elaborate outdoor audio visual systems, Rangel understands that each project is unique and we will work customers to provide the best system to optimize your space and needs. Give us a call at Rangel Electric to begin your outdoor TV installation design: (760) 360-7377.