Make the Most of Your Outdoor Lighting
Upgrade Your Lifestyle with Landscape Lighting Controlled by Your Smart Home System
As the weather finally begins to cool down, we look forward to more time outside. However, cooler evenings mean earlier sunsets and darker yards. Rangel Electric in Palm Desert can easily help you enhance your lifestyle with outdoor lighting – and even better – it can all be controlled by your smart home system.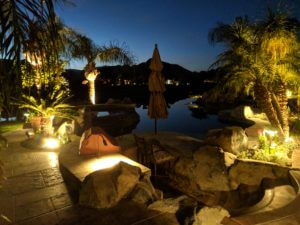 From Palm Springs to Rancho Mirage to La Quinta, Rangel Electric is well-known for their expertise in design and installation of high-end landscape lighting. We plan outdoor lighting for both form and function. The right illumination on your patio and throughout your yard creates ambiance and highlights interesting focal points in your landscaping design. Safety and security are always incorporated as well, ensuring that all pathways, gates and doorways have adequate lighting. We use a combination of outdoor lighting options from flood lights to pathlights and unique fixtures to custom design your outdoor space.
To truly take your exterior lighting design to the next level, the professionals at Rangel Electric will incorporate your landscape lighting into a smart home system. By adding a smart panel control system, you can manage your landscape lighting, pool lights, patio and more all from a single source inside your home. And even better, we will work with you to evaluate how your outdoor lighting will be used to determine the best design and programming schedule. We can program doorways and driveway lights to turn on just as it gets dark outside to ensure safety and security. Landscape lighting may also be on a timer to enhance your view and for security throughout your yard as well. Some lights may stay on all night, while some may only be on until bedtime.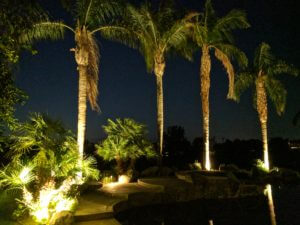 At Rangel Electric, we pride ourselves on clean and safe installation. We are careful to leave your yard, landscaping, and home as clean and manicured as before we were there. Our installation process is planned with the least amount of disruption possible and we always hide wires for safety and the most professional finish.
As you plan your outdoor lighting upgrade, please call our experts at Rangel Electric. A desert leader for more than 20 years, we are a full-service electrical company committed to providing quality, professional work and innovative, creative support. Rangel Electric serves all desert cities including Palm Springs, Rancho Mirage, Cathedral City, Palm Desert, La Quinta, Indio and beyond. We work hard to exceed our clients' expectations and look forward to speaking with you about your next project, whether landscape lighting, interior lighting, smart home solutions, repairs or any other electrical needs.